Jean-Claude Trichet will retire as European Central Bank president next October with the euro area still needing record-low interest rates, according to economists who accurately predicted the region's monetary policy this year.
The Frakfurt-based central bank will keep its key interest rate unchanged throughout 2011 amid low inflation, moderate growth and persisting fallout from the sovereign-debt crisis, said 12 of 17 economists. The sample was taken among forecasters who correctly anticipated in January that the ECB's benchmark would stay this year at 1 percent.
The euro may fall to a four-month low against the yen should it drop below major support levels established in the past month, said Tsutomu Soma, a bond and currency dealer at Okasan Securities Co.
Support at 108.35 yen marks the euro's weakest point on Nov. 30, and the 108.49 yen level represents an ascending trend line that connects the lows of Aug. 24, Sept. 8 and Dec. 23. Daily momentum indicators such as the moving average convergence/divergence, or MACD, also show the euro is likely to weaken versus the yen, Soma said.
"The euro looks pretty bad against the yen on the charts," Tokyo-based Soma said in an interview. "The bias is on the downside, with a clear break below 108.35 yen targeting the August low of 105.44 yen."
Europe's cerrency rose to 109.04 yen at 9:53 a.m. in Tokyo from 108.74 yen in New York yesterday, when it fell to 108.46 yen, the least since Dec. 1. The 105.44 yen level reached on Aug. 24 was the weakest since July 2001. The euro has sunk 18 percent against Japan's currency this year, set for the biggest loss since 2008.
The euro's MACD against the yen was minus 0.7102 today, below the signal line of minus 0.5405, based on data compiled by Bloomberg. The MACD is calculated by subtracting the 26-day exponential moving average from the 12-day average. The signal line is a nine-day exponential moving average of the MACD , and provides buy and sell signals to some analysts.
In technical analysis, investors and analysts study charts of trading patterns and prices to forecast changes in a security, commodity, currency or index. Support is where buy orders may be clustered while resistance refers to a level where there may be sell orders.
"The economic data has been looking pretty reasonable and there's nothing data-wise or news-wise that's particularly negative. There's probably a bit of profit taking going on at the end of the calendar year."
EUR/USD: the pair shown high in the field of $1.3150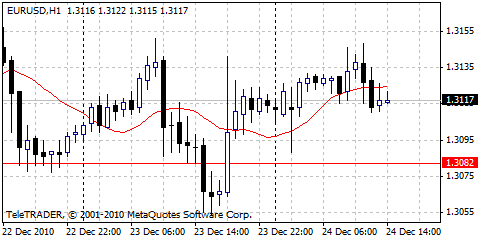 GBP/USD: the pair grown in around $1,5460.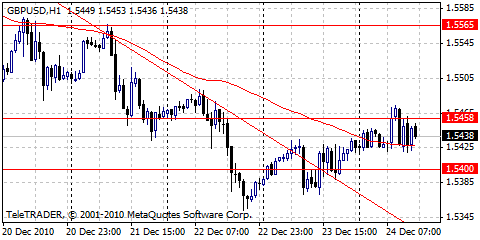 USD/JPY: the pair bargained within the limits of Y82,90-Y83,20.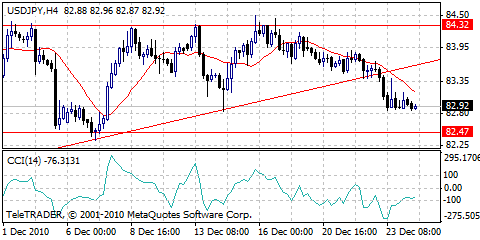 There is no data scheduled for today.