The euro dropped against the U.S. dollar on Wednesday as the Fed released its interest decision. The Fed kept its interest rate unchanged, but changed its guidance language. It said that it will be "patient" before to raise its interest rate.
The central bank maintained the phrase "interest rates would remain unchanged for a considerable time", but added that it can start to hike its interest rate sooner than expected. Interest rate hike by the Fed will lead to the further depreciation of the euro. But when we will see the first interest rate hike, it's still unclear.
The Fed Chair Janet Yellen said at the press conference that the Fed's position has not changed despite different views when to raise interest rates. Yellen noted that the Fed was unlikely to hike its interest rates for the "next couple of meetings".
I suppose the Fed will monitor the economic data in the next few months in order to decide whether it's appropriate to raise interest rate or not. The recently released U.S. economic data was mixed. The labour market is improving, but the recovery of the housing market seems to slow down and a lot of manufacturing indices were weaker than expected.
A slowdown of global economic growth will also weigh on the Fed's interest rate decision.
New U.S. labour market is scheduled to be released on January 09, 2015. Positive U.S. labour market data means will put the euro under pressure toward 1.2000.
But the most awaited event in January 2015 is the next European Central Bank's (ECB) meeting. The next monetary policy meeting is scheduled on January 22. The ECB President Mario Draghi said at a press conference on December 04 that the central bank will decide early next year whether to add further stimulus measures to boost inflation in the Eurozone. The next step of the ECB's stimulus measures could be the sovereign bond purchases.
New U.S. labour market data and the next ECB's monetary policy meeting will show us the direction of the currency pair EURUSD. I think the euro will recover some of its recent losses in the last few days of these year. The euro could rise toward 1.2500.
Nevertheless, there is a "but": a parliamentary vote for Greek president. The Greek presidency candidate is Stavros Dimas. There are three possible votes in parliament. If the candidate isn't elected in three possible votes, the parliament will be dissolved. The first vote was unsuccessful.
The uncertainty in Greece could have a negative impact on the euro.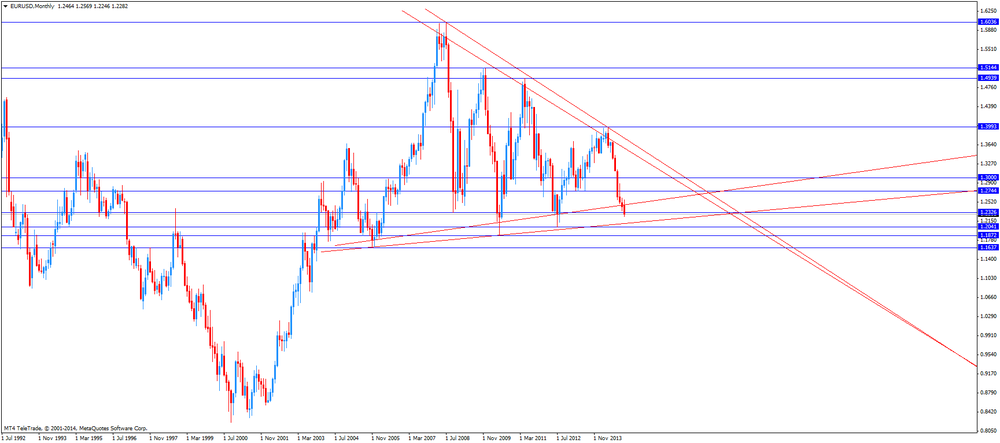 EURSUD monthly, December 19, 2014