Inspiring Q42019 earnings report due to be released Jan. 23 could enable Starbucks shares (SBUX) to update its highs of July 2019 if Starbucks will follow the scenario of many rising shares of different companies on the US stock market that performed well in 2019.
The Starbucks shares today is still $6 below its highs recorded last summer when it reached $99.72 per share. Taking into account than it gained already 78% over the last 18 months and made a correction to $81 in Nov. 2019 any inspiring earnings report could push the price above the record highs near $100.
However, this scenario will be active only if the company's shares will be traded above Nov. 2019 lows, not below the support level of $80. In case the support level will be broken below $80 investors should be aware of the growing downside risk for Starbucks shares. In this scenario further slide of the price to $70 or even to $65 per share should be kept in mind.
Pic 1. Starbucks share price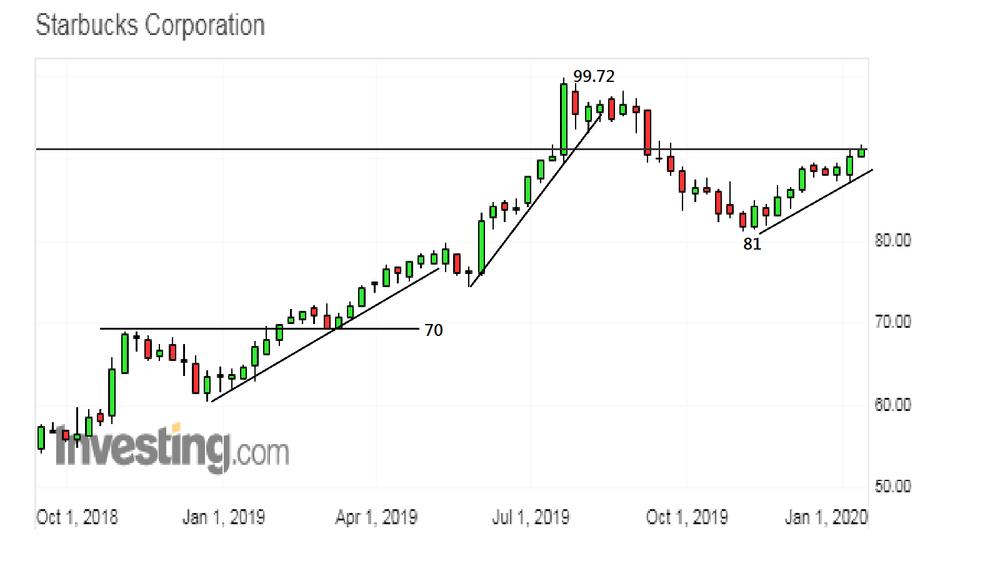 Source: Investing.com

Starbucks (SBUX) became a winner in a very different type of market in 2005-2010 including the period of financial crisis in 2008-2009. That's may be a history, but it shows a remarkable ability of the company to adopt to a different consumer sentiment.

Pic 2. Starbucks statistics (2005-2010)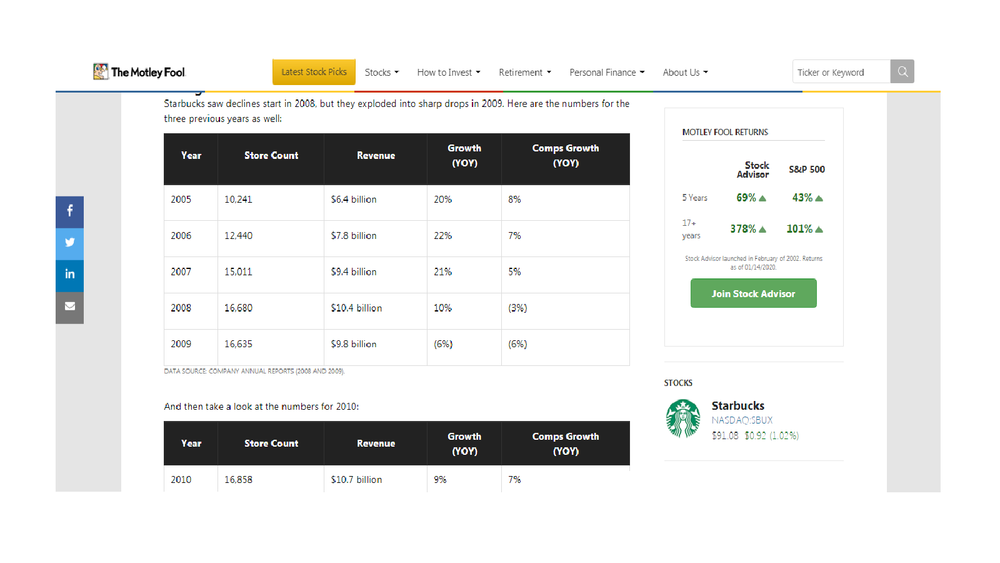 Source: The Motley Fool analytics

According to the official website of the Company the total number of Starbucks stores worldwide is almost twice as high as in 2010 reaching for now more than 31,000. Starbucks reported strong surplus in revenues from $6.3 billion in Q32018 to $6.75 billion in Q32019 with a market expectation (according to Investing.com) of $7.1 billion in revenues in Q42019. EPS (earning per share) is expected to be near $0.76 (same level as a year before), dividends announced at $0.41 per share in Nov 19 vs $0.36 a year before.

Pic 3. Starbucks Earnings (expectations and facts)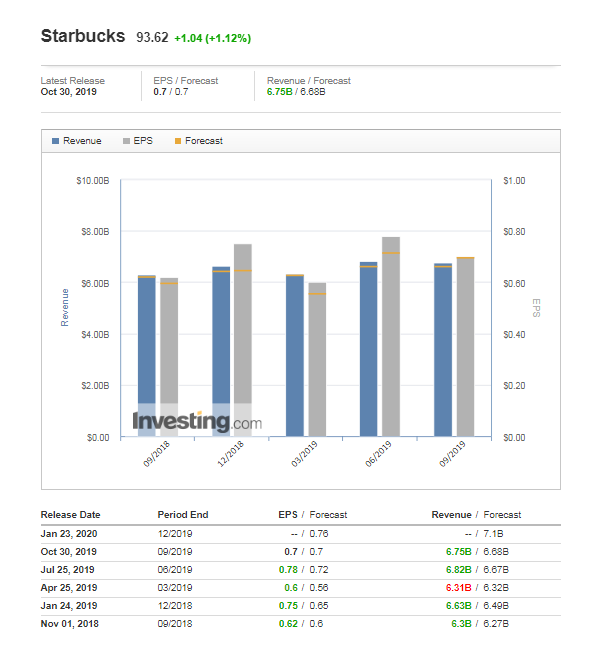 Source: Investing.com

Notable advantages of Starbucks business model are in a good balance between technology innovations and emotional personal connections with a customer: the staff is motivated to support personalized customer interaction and friendly atmosphere even when customers use coffee chain's smartphone application. Starbucks recently created digital partnership with Alibaba (BABA) for online orders in China, a vast market. The launch of oat milk drinks and similar vegan-friendly beverages is a smart move to extend the loyal audience.
The company extends personal attitude to its employees when every one of them can pretend for a small part of the company's financial result: they are partners of Starbucks. For everyone interested the business model and philosophy of the company could be found in a book of Starbucks CEO Howard Schultz "Pour your heart into it: How Starbucks built a company one cup at a time".
Disclaimer:
Analysis and opinions provided herein are intended solely for informational and educational purposes and don't represent a recommendation or investment advice by TeleTrade.
Indiscriminate reliance on illustrative or informational materials may lead to losses.