Netflix (NFLX) stocks gained 7.24% closing $349.6 on Thursday after investors reconsider a disappointing guidance from the streaming giant where it stated elevating churn rate for 1Q2020.
"Our Q1'20 forecast reflects the continued, slightly elevated churn levels we are seeing in the U.S. plus an expectation for more balanced paid net adds across Q1 and Q2 this year, with seasonality more similar to 2018 than 2019", Netflix warned in a press release.
The company delivered quarterly earnings beat both in EPS of $1.30 and revenue of $5.47 billion vs analysts' average forecast EPS of $0.52 on revenue of $5.45 billion. That was also significantly higher compareв with EPS of $0.30 on revenue of $4.19 billion the same 4Q a year before.
In the same report Netflix posted new 550,000 U.S. and Canada streaming subscribers, missing forecasts of 589,000, but performed much better worldwide adding 8.33 million new subscribers, well above the 7.2 million generally expected before.
The market gave a one-day break after mixed Wednesday's dynamics of both Netflix shares and main US indexes and probably came to a more realistic conclusion: year by year Netflix goes global. Even with a relatively higher churn levels in the U.S. compared to Disney and Apple streaming services the total number of Netflix "devotees" is rapidly increasing.
The company focuses on international markets as streaming space gets crowded, 95% of new 4Q2019 subscribers came from the outside the North American continent.
Pic.1 Netflix mobile application new installations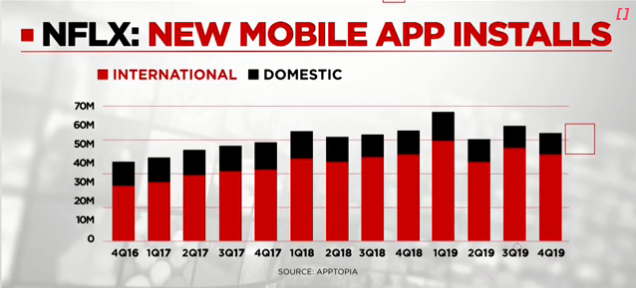 Source: Apptopia

Moderate gains in Nasdaq and the S&P500 on Thursday supported the rise in Netflix shares, but they outperform the market breaking through the $345 strong 7-months' resistance level. Still, Netflix shares are still 9.42% below their 52-week high of $385.99 set on May 1, 2019.
After that brilliant trading session, some of big funds raised their target price on Netflix stocks. Guggenheim Partners with a $275 billion under management revealed surprisingly high forecast of possible $420 per share after $400 target before.
More realistic and possible target technically could be seen on a half way to $385.99 peak, and any of such an upward scenarios may be able to remain in effect as long as the price fluctuates at least above $315 (former strong November resistance level).
Disclaimer:
Analysis and opinions provided herein are intended solely for informational and educational purposes and don't represent a recommendation or investment advice by TeleTrade.
Indiscriminate reliance on illustrative or informational materials may lead to losses.