The stock indexes in Asia continue to recover, including a pivotal Chinese Shanghai Composite (SSEC), which closed on Tuesday at 2901.67. That is 1.44% higher than what it was at the start of the week, and 8.05% higher if compared to the previous week's low. It is also only 2.5% below the values recorded before the long Lunar New Year holidays.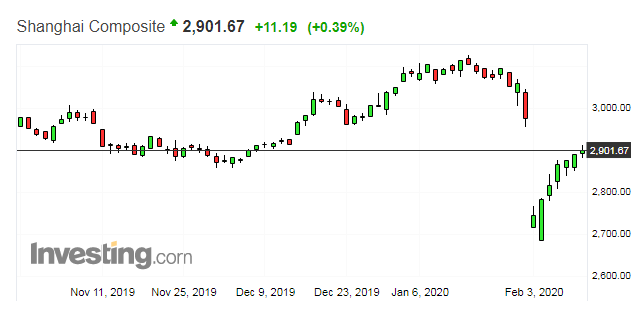 Source: Investing.com

The Hang Seng index of the Hong Kong exchange (HSI) are performing even better (-1.4% off the holidays close price), while the United States S&P500 and Nasdaq100 are enjoying their new all-time highs as if there had been no "virus" correction at all in recent weeks.

Pic 2. Hang Seng index (HSI)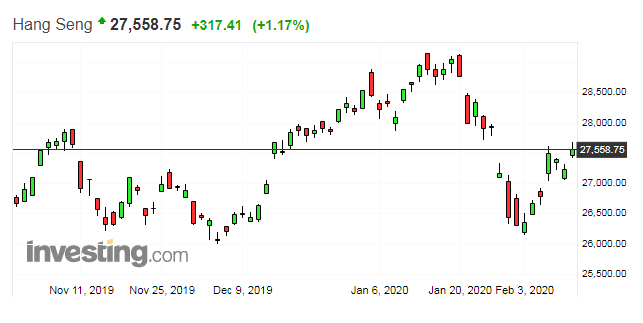 Source: Investing.com

Pic 3. Nasdaq 100 index of the US high-technology sector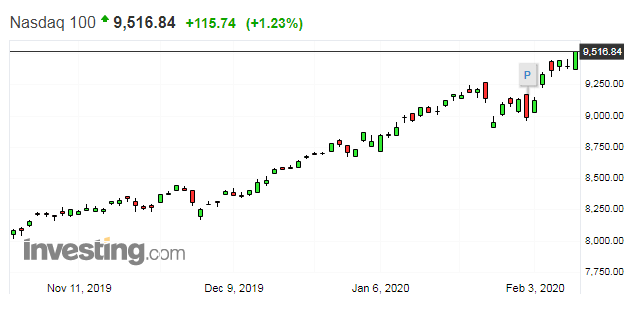 Source: Investing.com

Among this favourable background, the interest in new portfolio purchases is clearly reviving, taking into account the fact that the main world's central banks continue their policy of pumping money into the markets at ultra-low interest rates with a special "complement" to special quantitative easing (QE) programs.
However, many hedge fund managers and traders are now more cautious as they fear that "the sky is getting closer" and it can accommodate not only new shining heights but also some "black swans" in the future. Even though the anxiety caused by the coronavirus is subsiding, potential asset buyers are becoming more fastidious.
At least in the coming weeks they may be more cautious when dealing with the undervalued shares of some Asian companies and even with world index futures. However, investments in the particular shares of large American or European companies that withstood the coronavirus wind and did not fall in price, along with the common correction in the markets, are seen more likely. These companies may benefit even more - despite the fact that their shares are already near fresh highs - if they perform with stability and return substantial results in the Wall Street reporting season.
Travel sales, tourism and hotel business in Asia could be an exception, as these businesses are expected to contract in the coming months. The relative winners may be some companies that are engaged in internet delivery services. Anyway, it makes sense, perhaps, to pay special attention to the dynamics of the shares of companies that have already reported for Q4 in the season. More than 150 companies from the S&P500 index list are planning to deliver their earnings report by the end of this week, some of the most anticipated earnings releases are represented in picture 4 below.
Pic 4. Some of the most anticipated Wall Street earnings releases this week
Source: Earnings Whispers

Disclaimer:
Analysis and opinions provided herein are intended solely for informational and educational purposes and don't represent a recommendation or investment advice by TeleTrade.
Indiscriminate reliance on illustrative or informational materials may lead to losses.