03.04.2018, 10:08
Technical Analysis on USDJPY
Based on the Ichimoku system, it could be noticed that the price seems to consolidate, provided that it is taken into consideration that the price, the lines Tekan Sen and Kijun Sen, and the Chikou span, are in the cloud. Due to the uncertainty, created by the trade war, we might consider looking for potential buy signals, if the price breaks a potential upper Kumo cloud and the Chikou Span is above the cloud.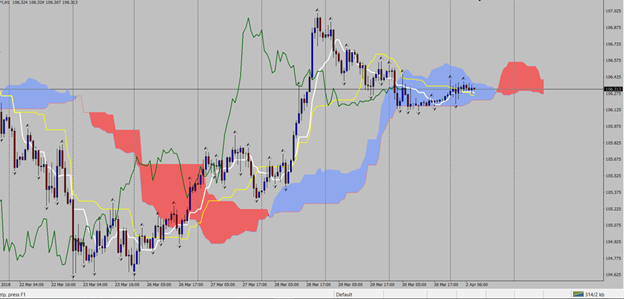 Disclaimer: Materials, analysis and opinions contained, referenced or provided herein are intended solely for informational and education purposes. Personal Opinion of the Author does not represent and should not be construed as a statement or an investment advice made by TeleTrade. All Indiscriminate reliance on illustrative or informational materials may lead to losses. Past performance is not a reliable indicator of future results.
Risk Warning: Investment services are provided by TeleTrade-DJ International Consulting Ltd, a Cyprus Investment Firm under reg. number HE272810 operating in accordance with MiFID, under license 158/11 by the Cyprus Securities and Exchange Commission. Trading in leveraged derivative financial instruments carries a high level of risk and may not be suitable for all investors. Past performance is not a reliable indicator of future results. Indiscriminate reliance on informational or historical materials may lead to losses.