09.03.2018, 14:05
Regulatory concerns Created more Pressure on Bitcoin
Technical View
On the daily timeframe of the technical view, we may detect a valid Kumo break out to the downside. In addition to this, it could be detected the reversal that occurred and the failing of the price to break the strong and thick Kumo supported by a double top formation.
Now, if the price breaks the Kijun Sen line too and, the two lines Tekan Sen and Kijun Sen are in a bearish formation, (which means that the yellow line would be on top of the white line) and the Chikou span green line is out of the price, then the price may head further down.
Despite the fact that the market tends to look bearish, we cannot be absolutely sure that this will continue.
Crypto prices seem to face wide fluctuations, so it would be recommended to be prudent.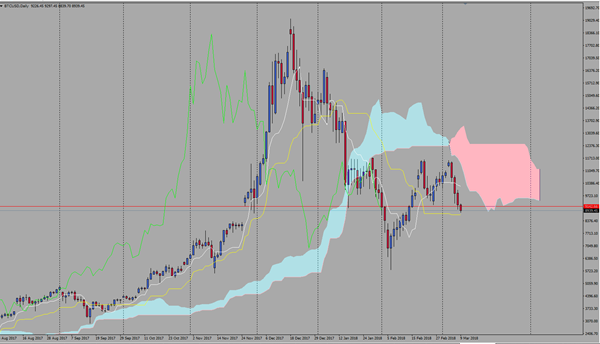 In the short term timeframe of 1h, we may see a potential bearish picture. In this case, selling opportunities may come across each time the price bounces on the Kijun Sen line and follows the biggest timeframes trend.