12.03.2018, 11:39
EURUSD- A probable uptrend break
Technical View
In the following chart, it could be observed that last week's uptrend on the 1H timeframe was interrupted during the fundamental news by creating a Kumo break out signal to the downside.
The Kumo breakout seems to be valid because the Tekan Sen, Kijun Sen, Chickou span and the price are out of the Kumo, with the lines forming a so called bearish formation. If the price tried to break the Kumo to the upside and failed, then we would see the price moving to the downside and breaking probably the support of the lines Tekan Sen and Kijun Sen.
The thickness of the Kumo could be an incentive to start looking for bearish signals, provided that fundamental news is taken into consideration.
1H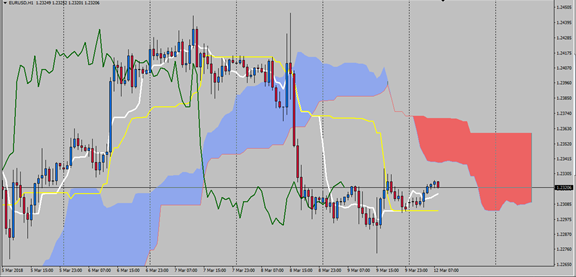 Regarding the long-term picture, on the daily time-frame, we may observe bullish formation with the lines out of the Kumo aggressively up. However, the bullish formation lines are broken and, the price broke the support of these lines. This could be an early clue for a bearish signal, given that we connect the 1H time-frame that created a Kumo breakout signal.

Daily