16.03.2018, 11:36
Cloudy future for Bitcoin could be an opportunity for bears on cryptos?
Technical view
On the daily chart, it could be noticed a confirmed Kumo break out to the downside. In order to justify this, the components of Ichimoku system should be examined. Firstly, the price, the Tekan Sen and the Kijun Sen are out of the cloud. Furthermore, the Chikou span is out of the cloud and is trying to get out of the price too.
Regarding Bitcoin, given that fundamentals are taken into consideration, it could be said that for the time being we are in a downtrend and, we could look for potential bear signals at the 4H timeframe once the price comes back to Kijun Sen.
Be aware of the fact that cryptos are highly volatile pairs and there is a high probability of moving in very rapidly within the day. Therefore, be careful and always estimate the risk before entering the market.
Daily time frame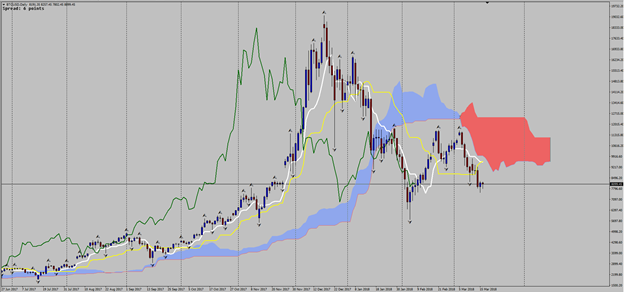 4H time frame