19.03.2018, 10:04
Has Bitcoin reached its end or the end of a downtrend?
Lately, many clues have justified that Bitcoinmay probably continue falling. Recent annulments and technical news might urge people react in fear. If we examine the Bitcoin charts, we may perceive that by applying the Elliot wave theory, we could say that we might be in a corrective way after the fall of the 19th December 2017. We might be there for a while, provided that we take into consideration that the corrective wave has not finished yet.
Daily time frame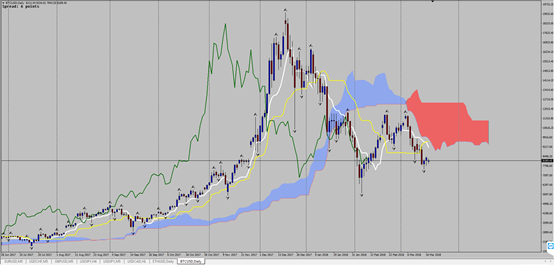 On the contrary, if we examine the Ichimoku system as well, we may see that we are below the cloud. Our lines Kijun Sen, Tekan Sen and Chikou span, are out of the cloud as well, giving us a probable strong sell sentiment with the future cloud becoming strong with flat areas and shifted downwards, which means that the potential downtrend is still strong.