22.09.2016, 08:15
USDJPY: Intraday retracement?
Yesterday we had a look at the swing scenarios for USDJPY and we signaled a moment of high volatility moment in the market, a situation likely to create great bullish and bearish opportunities for traders after the BoJ Interest Rate decision.
As it is often the case with surprise moves in interest rates, yesterday bears took absolute control and managed to push the price just a few pips shy of the 100.00 key level in just 2 trading sessions. But volatility has not dried out yet, as the pair is now under strong influence of the FOMC statement from last night.
Today we want to signal some short-term scenarios for intra-day traders. Both bears and bulls have their own windows of opportunity around the key technical levels.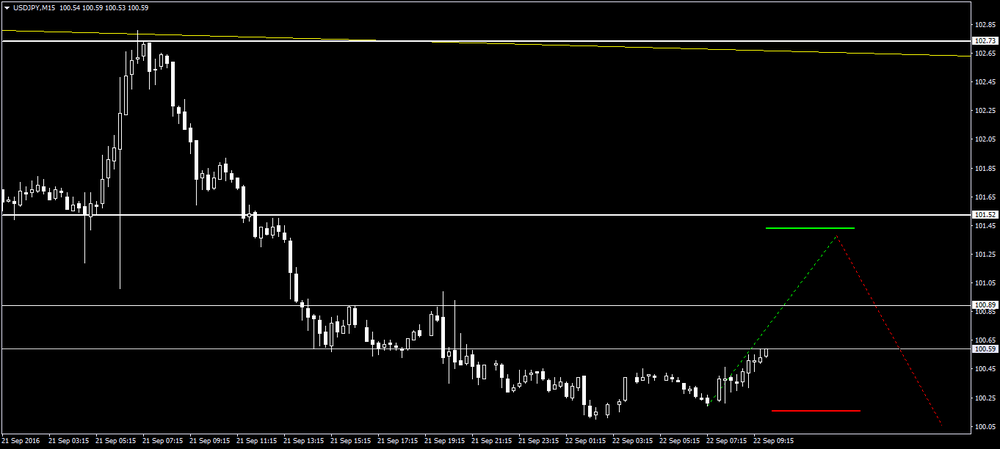 Bullish Scenario: green
Bulls are now backed up by a first (yet shy) test of the key 100.00 psychological level, and a short-term (and possibly short-lived) move up is now possible, as market players start taking profits from this first push. price is 100.59 at the time of this writing. Targets are seen around 100.90 and 101.50.
Caution: The trend at this time remains bearish, so any move up is against the main flow - which is why risk management should be taken very seriously. Tight stops are the word of order right now, as any move back towards 100.10 could rapidly turn into unexpected, violent breaks of 100.00. Also, bears are expected to go back in swing shorts on upside corrections - so short-term buyers of the pair are probably planning for quick take profit-and-run trades today.
Bearish Scenario: red
Bears are probably now reloading for another - possibly stronger - test of 100. They are expected to step in as early as 100.90 and definitely around the key hourly/daily level of 101.50, where some kind of reaction is expected. These trades probably have larger stops (around 102), as the targets are equally large (100.00 and 99.2) and their projected time frame could be up to 2-3 days.
Whatever your preference and trading style is, caution is advised at this time due to increased volatility. Happy pip-hunting!