23.09.2016, 09:25
The Bulls Have Spoken! What's Next?
Yesterday we published a short-term bullish scenario for the USDJPY pair , which worked perfectly in spite of the broad bearish sentiment on the JPY pairs. This goes to show that even in bearish trends short-term opportunities could prove very lucrative if proper risk management rules are respected.
Today we go back to the same scenario chart, with an update: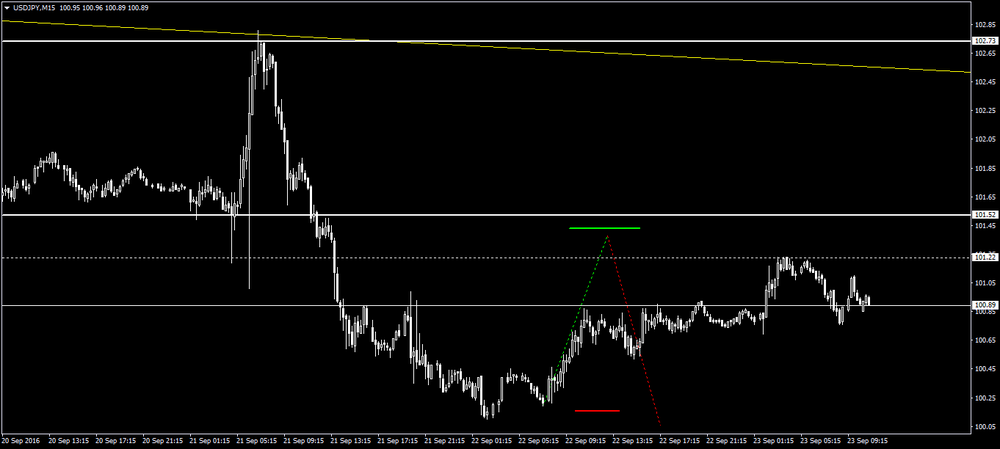 The market sentiment is mixed this morning, with the bulls finding it hard to hold on to recent gains, while obvious bearish pressure is building up ahead of 101.50. The echo of the BoJ decision can still be heard, and in mid-term its impact is more likely to fuel further pressure down, towards an eventual break of the key 100.00 mark.
Bullish Scenario: bulls face a tough situation today, as short-term charts favor a continuation of yesterday's correction but with a larger bearish trend on the hourlies still active. Risk management can be difficult today given the situation. Price can still push up towards 101.52, but new waves of selling may be building up ahead of this level. Expect choppy price action as buyers may be satisfied with modest gains this session and bears are probably re-positioning for another swing move.
Bearish Scenario: favored by the larger technical picture and the fundamentals, nice selling opportunities start over the 101 mark, followed by 101.50, where short-term selling could meet more serious swing shorts. Bears could take advantages of spikes up (choppy action is usual in such technical patterns) for placing short orders at key levels. A minor resistance has formed around 101.20, but its importance will probably be limited to intraday action only.
As always: respect your trading style, your rules and most importantly your risk management strategy. Happy pipping!